We give you a list of the best pool tables under $2000 that will brighten up your home. Play anytime you want. Practise till you get perfect. Get it today
A pool table can be a gorgeous addition to your home.  That being said, it is an investment that you should think about wisely before stepping into.  A pool table, unlike any regular table, requires a bit of care and maintenance.
It's common to see persons who are looking for a good pool table on the market today be looking under the Best Pool Tables Under $2000. You are at the right place, here we have the top 4 pool table reviews that are currently the best pool tables to be using weather commercial or home usage. I personally think that these price range of pool tables are the cheapest you can get a good sturdy pool table for, unless you are just on the market to get something cheap and that's not durable.
All pool tables may look alike but they are going to play totally different from the other, some persons may think that the can look on a cheaper pool table and be like, this pool table looks better than the one I saw for a more expensive cost. This is not true, sometimes you may be just buying a good looking pool table, nothing else, you cant be comparing something at the pricing of let's say 499 to one that's 1499, no way that's possible.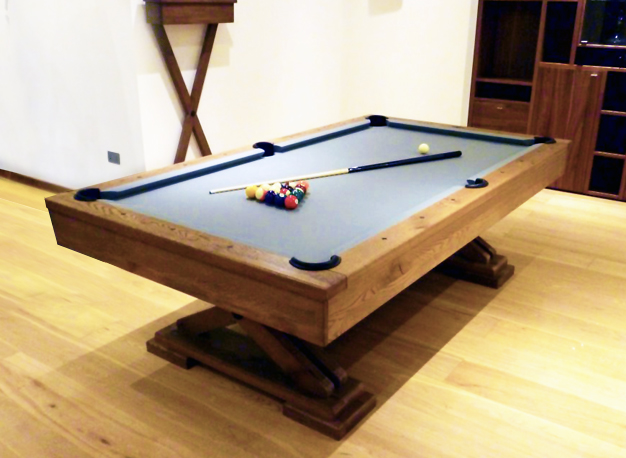 A pool table is an investment that should last at least eight years and I quote at least eight years, my pool table is now running 12 years the only thing I may do is re-wrap it. The main point that am trying to get at is that it is always best to buy something of good quality.  Below will be the listing of the Best Pool Tables Under $2000, I do hope you enjoy it.
Best Pool Tables Under $2000
1. Barrington Claremont Slate Billiard Table Set –

Editors Home Choice

–
The Barrington Billiards Claremont Pool Table is one of the most favored pool tables for homes across the world and also has extra high popularity in the United States. It does not matter where in the hose you set this pool table it will stand out none the less, it's not just all talk with table and no bark, it plays and feels like how any professional pool table would play and feel.
This pool table is constructed with a three-piece slate system giving the best and smoothest playing surface a pool table can possibly have, constructions like there are mostly in the higher-ranked tables over 3k. Another great feather this table has that also contributes to the perfect ball movements is its wool cloth. I am not sure how long this pool table will stay below the 2k Priceline but this is definitely an investment you should think to get from now.
The rails are also made up of high-grade solid wood and aprons, as you can see this pool table lacks nothing on durability, it's well built. Let's get into a little bit about its elegant design look and detailing, the leg of this pool table carries a traditional Queen Anne design look, when seen up close you will see what am talking about.
The table was also constructed with leather drop pockets, nothing holds better. There are lots more to say about this pool table but I will just wrap things up by saying this table is a very good selecting for your indoor usage.  It would be best to get a professional to install the table, so when ordering please the supplier for remanded personals.
Pro Features 
 K-66 bumper guards
Queen Anne legs design
 60% wool cloth cover
 3-piece slate
premium slate for durability
Aprons & rails made of high-quality wood
Very durable
8ft
2. Barrington Urban Professional Billiard Pool Table –

Designers Pick

– 
Next on the list is the
Barrington Urban pool table, as you can see this pool table has a more modern design look than the majority of them out there, it packs a luxurious look. A variety of material was used to craft this specific table, to be exact it would be eight different materials, it was well crafted.
The playfield surface of this pool table would be 25mm thick, wool-covered surface, this table was definitely built to last for a long time. Its also well suited for any occasion, having this in your sight will surely increase the amount of time you play a game of pool. By looking at it you are just gonna want to uses it even when you did not plan to, its just one of those pool tables.
Some additional details of this pool table are the birch wood with the oak finishing, well crafted, the leg that are made of concrete that was styled in a unique design look. The concrete legs are then provided with a strong and stable wooden rod to ensure perfect balance support. The pockets are leather drop pockets as well, the final thing that made this pool table pops out this much with the design is the black felt covering.
The bottom line is if you are on the market looking for a more modern looking pool table this would be the right pick for you. It's sure to satisfy and will most definitely perform on a professional level as well.
Pro Features
Modern design look
It includes a complete billiard kit set free
25mm thick surface
Leather drop pockets
Birchwood frame and buttressed
Wooden rod connectors
Very durable
Concrete-style pillars
8ft
3. Mizerak Dynasty Space Saver 6.5′ Billiard Table –

Most Inexpensive

–
This is a smaller pool table than the previous ones mentioned above,
its 6ft5 and will fit perfectly in a smaller room. The cost for this pool table is well below the average cost of a quality normal pool table. The design is well structure as well, it holds a modern but still carries the old fashion look.
What I most like about this pool table is that it consists of leg levelers this makes leveling the table much easier than the normal. It also carries a great automatic ball returning system that is very accurate and works well, quick and fast. In regards to the perfect ball rolls on the table, it is equipped with a double-sealed MDF play bed.
none the less this is another great choice of your choosing especially if you are working with a budget of under 1000. And do remember that for the price you also get a set of cue sticks, rack, chalk, billiard ball set, and a cue ball.
Pro Features
6ft5
Leg levelers
 MDF play-bed
Automatic ball return
Set of billiard balls set,2 pool cue sticks, rack, chalk, and more free accessories included.
Durable
Affordable
Classic parlor look
4. Barrington Woodhaven Premium Billiard Pool Table –

Multi-Purpose

–
The multi-purpose Barrington pool/snooker premium billiard table, this table is well equipped for all the different game type usage. This pool table comes in five different styles of design, it gives you the customer more options to choose from. The table gives a true professional and smoothe plays when playing on it its surface  I guess we can thank the 25mm wool felt for that.
The thing I like most about this pool table is the fact that it is so easy to assemble, it does not need that much of a professional person to come do the installation but its always good to get one either way. Some high-graded materials were used to craft this masterpiece so it lacks nonthing low on durability when having a budget over a 1000 they know we looking something to last as long as possible if not forever.
Not all companies share the same thing though, some are built with cheap material and be polished up to look good but not durable. Back to the topic at hand, the rails are built up of premium K66 cushion to give the best and most accurate bank plays in the game. This pool table asp carried an adjustable bracket that levels the playing field, it located under the mainframe.
Pro Features
8ft3 billiard table
K66 cushions
25mm thick wool felt
High-graded material upon construction built
Durable
Leather net drop pockets
Beautifull carved legs
Points To Remember When Buying A Pool Table
Here are a few points you might want to keep in mind if you are getting ready to buy your first pool table, or upgrade the one you already own:
Make sure there is enough room for the pool table to sit in comfortably.  A regular pool table is around 8 feet long and 4 feet wide.  However, you must keep in mind that you will need space to move around and additional space to mauver the cues.  You should also have space available to store the accessories like pool cue racks, balls, etc.  

If you plan to place the table in an upstairs room or attic, ensure you have help ready to carry the table before you invest in it.  These tables are heavy, around 800 – 1000 pounds, so you will need more than two persons to transport them.

Consider the purpose for which the pool tables will be used.  If it is for family and friends, consider investing in an economical option.  However, if you want one to enhance your skills, go all in and buy a professional one.

Make sure that your table matches the aesthetics of the room you have placed it in.

Have a pool table professional ready for help before you invest in one.  They can help you to decide on the type of table you want, its size, and even do minor repairs for you from time to time.

Opt for a pool table with a warranty.  Though they may be on the expensive side, your money is being well spent.
Why Having A Good Pool Table Is Important
If you are at a beginner's level of the game and you intend to stay that way it not going matter what table you play on, you could just get the cheapest billiard table out there for your amusement only. That aside, a good pool table will give the best and most accurate bounce shots and plays of the game. All tournaments use a professional game table so why not practice all your games on one as well.
I know for a fact that beginners do not know the different feelings each different pool table has but as you evolve in the game you are going to start noticing the differences. If you were good at playing on dead bank tables then you going to have trouble when playing on a more professional table, your game will be way off. Competitors may even thing you are just learning the game when the main reason would just be you not use to the active banks and roles.
The bottom line is that, using a lower ranked pool table can very much impact your game, especially when playing on high-end pool tables.  I am not saying to get the most expensive pool tables am just stating the facts and educating the reader as well. The Best Pool Tables Under $2000 would be the best budget to look under if you are looking for a quality pool table,
Common Mistakes Frequently Made When Buying A Pool Table
Ordering without measuring the room to see if it's big enough and if it has sufficient playing space.
Substituting for a cheaper one that is of no quality and not good.
Persons are not aware that where they are putting the pool table is not leveled.
Not checking to see if all parts upon delivery and waits until they are ready to assemble to check.
Short Summary
Thanks again for checking out our full reviews on the Best Pool Tables Under $2000, be sure to check out our other related posts as well, such as Higher End Pool Tables.