Our list of best pool cues for beginners will save you a ton of money. Leave the research to us and relax while we suggest cues that are just right for you.
As a beginner of the cuesport pool, it may seem somewhat confusing when looking to buy your first pool cue stick for yourself. The true confusion is if its best to buy a high-value pool cue or just stick to a cheap model for the time then upgrade. No need to stress the factor or worry over that you are now in the right place, the listing below will be top selections for beginners with the Best Pool Cues for Beginners. 
New to the sport or to choosing your first pool cue stick there will be a few things to take into consideration when picking out a pool cue. My persona; advice would be to choose a medium-hard tip not a fully soft or hard tip, the hard or soft tip will not give the best playing experience for a beginner.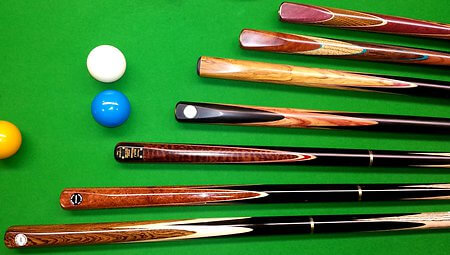 Best Pool Cues for Beginners
1. Viking Valhalla 200 Series Pool Cue –

Editors Choice

– 
The Viking Valhalla pool cue has to be the most beginners friendly pool cue stick that's on the market,
it gives smooth plays and the price is way within budget. This pool cue comes in standard ounces 18-21oz and is very color friendly with over ten different colors and pattern designs.
The shaft of this pool cue was crafted from North American Hard Rock Maple wood, so it's pretty sturdy and good it's even somewhat surprising to be on cheap graded pol cue as this. It carries a  Nylon wrap with an Ultra-violet Urethane finishing touch.
All an all this cue a good choice for any beginner of the game that is looking to buy a pool cue stick for their very first time, the tip size is also great it features a 13mm leather tip as well.
Pros:
Hard Rock Maple Wood built shaft
 Premium Leather Tip
Over 10 different colors to choose from
Ultra-violet Urethane
Rubber Bumper
 High Impact Resin
Cons:
May arrive in the wrong color
2. Players C-945 Classic Smoke Stained Birds-Eye Maple Pool Cue –

Best Pool Cue For Beginners

–
Next is the Players C-945, this pool cue is a magnificent cue and packs a numerous amount of features but at the same time, it is also a beginner's friendly cue, very easy to handle. I personally know a few people who had bought this exact cue stick on buying their first cue and now these guys are playing at a high level of the game so I will definitely recommend this as your first and best choice.
Let's jump into a few more details about this cue, most of the shafts in this brand are high-impact ferrule providing smoother plays. On like some pool cue that is on the market this cue was coated with a  high gloss super UV coating so the cue won't lose its color while protecting the body from easy scratches.
If I was to continue on the features about this cue it would not end here so I am going to just hop into the main details about.
Pros:
Treated with Nelsonite
 Wrap less handle
Atmospheric changes protection
Special French cue wax
High-impact ferrule
High gloss super UV coating
Sleek wrap less handle
 Le Pro tip
Good design
Durable
Cons:
Only available in one color
3.TaiBA 2-Piece Pool Stick + Hard Case –

Most Inexpensive

–
This two-piece also carries over ten different colors and designs and on top of the varies in colors it comes with a hard pool cue case as well.
So you basically get a cue and a case master for this budget, its really remarkable I can say truly a great buy for any beginners of the sport.
The shaft was crafted from hard Canadian maple wood and also has a pro-tapper, most of them are weight adjustable just open the rubber bumper at the opposite end for the tip of the cue and you will see where the adjustments are been done.
Pros:
Multilayer Leather Tip
 Quality Canadian maple wood
 Pro-taper
Over 10 different color selections
 Joint protectors
Rubber bumper
Cons:
Make sure to store properly, a simple temperature chance will warp the cue if not stored well
4. CUESOUL SOOCOO Series 58″ 19oz Pool Cue –

Canadian Maple

– 
Another well-fitted pool cue for beginners is the Cuesoul Soocoo, this a next inexpensive pool cue that will surely get the job done and will execute plays very smoothly. Everything you see in the displayed image is everything you will be getting, a crystal cue joint protector likewise shaft protector, a cleaning towel especially for the cleaning of your pool cue stick.
The tip size is variant from 11.5mm or 12.75, my personal recommended would be the 12,75 tip size range for beginners. This cue has 4 different color types to choose from however, the different colors will give different accessories with the stick and the price may go up or down depending on what it's giving you but rest assure they are all within a friendly budget.
Pros:
 

'ROCKET' PIN, Quick release

Comes with additional accessories
58 inch, 19oz cue stick
 Treated Canadian Maple
 Pearl Paint Finished
Good design
Two different tip size to choose from
Stainless Steel Collar
Cons:
One of the free accessories added at times are missing upon delivery
5. McDermott Pro Pool Cue Kit  –

The

McDermott Bundle

–
With this super deal, you will be getting the official rule book, a 1 by 1 pool cue case to protect your cue, tow pieces od chalk, a tip suffer and a shaper joint protector.  As a beginner of the game, you are all set and ready to go with all that the McDermott pool cue kt set has to offer.
This brand is a worldwide famous all American pool brand, I am betting from the moment you start off using this brand you feel the brand's image and want to keep using their cue sticks. Pool sticks in this brand can get really expensive due to the fact that they are popular for build high-end and quality pool cue sticks that are said to be some of the most durable around.
Pros:
The official rule book will be added
Tip Scuffer
Shaper Joint Protectors
A case master will be added
Two free chalks
Warranty
Cons: 
Does not keeps the chalk on the tip for very long
Buying Guide For Beginners 
As a beginner to the game and choosing your first pool cue stick, its best to keep the budget line minimal because there are a lot of selections out there and you are not gonna know at first hand what suits you the best. However, if you can afford to start off using the high-end pool cue sticks you can also do that but I would recommend trying out the basics first or Low Budget Quality Pool Cues to get a field of what you would like.
When buying a pool cue stick for the very first time there are few things you are going to want to keep in mind of, every cue stick has a different type of tip density and will all give different gameplay. To simplify things down the tip density will come in soft, medium and hard. A soft tip will give the most control with the white cue ball on the table but will also provide a minimal amount of power to your strikes.
A medium tip which would be the most recommended tip density for all beginners to the game will give both control and power at the same time making it easier to learn the different types of shots in the game. Then we have now the hard tip which would provide the maximum amount of power but less to no control over the cue ball on the table, hard tips are best for the breaking of the game or for special shots in the game.
Other Factors beginners Should Keep In Mind
If you are at an average height of 5ft7 to the hight of 6ft4 the 58inch in length pool cue stick will do you just fine however if you are below 5ft7 to 5ft flat it would be best recommended to use or try out the 52inches in length cue stick. If you are also shorter than the height of 5ft we would then recommend using a 48-inch pool stick, no matter the height you are at am sure you will find the perfect length for you.
Material Built
The three main types of cue sticks build are wood, fiberglass, and graphite. The most popular and common as you may have thought already would be the wood-built type of cues. 80% of players in the world are using a wood built cue it provides the best in power and accuracy, most of the high-end cues are made from Hard Rock Maple Wood.
Next is the fiberglass/graphite, the main advantages that this type carries are the main fact that it will not warp and a wooden cue will, even if its overtime.  You will get better-looking designs in these types more than you would in wood, making it more eye-catching to a newcomer, graphite is even the cheapest of them all.
Another factor of which you can take into consideration is the wrap type, the wrap is thick part on the stick and that's where your hand holding to provide the power and grip on the cue stick. Common wraps are leather, Irish linen, Rubber grip or no wrap at all however the cheaper pool cues will tend to feature a nylon wrap as well.
Sadly I will not be getting into the specific details the wrap types and the pros and cons to them but you are still in the right place you can go check out how to pick the right pool cue in the main menu above in the informational guide section. All that and more were covered in that specific article am sure it will most definitely point you in the right direction as a beginner.
Short Summary
Thanks again for reading our full review article on the Best Pool Cues for Beginners, we do hope you check out a few more related articles in the main menu section. This review was done specially for beginners with a friendly budget line in which we all feel comfortable with all pool cues listed above are good and the best of quality for its Priceline.